Controller RDLC320-A
The laser cutter uses a controller of type RDLC320-A, most likely manufactured by Ruida Technology, Shenzen, China.
Main Controller Unit
The control input of the laser power supply as well as all stepper motors, end switches and other hardware components of the machine are connected to the main controller unit. It also provides two USB connectors, one for a connection to the PC (at right side on photo) and one for connecting a memory stick (at lower left on photo). The cable at the top left corner connects the display unit to the main controller units.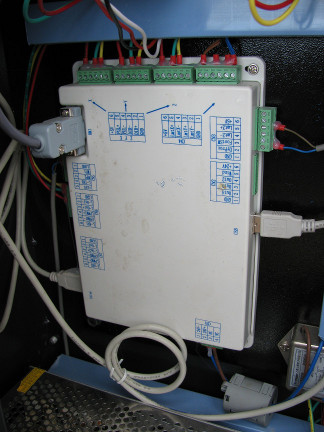 Display Unit
The display unit is mounted on the outside of the laser cutter and is used to control the machine manually. It shows the status of the controller unit and provides buttons for moving the laser head, adapting the focus, pausing job execution and other functions.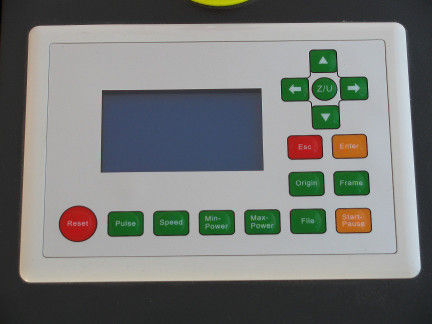 PC Software
The PC software shipped with the RDLC320-A controller is RDCAM version 6. It can be downloaded from the
Ruida Technology Download Page
.